~ Dairy of an Otaku ~
#2
Hi, guys! Another week has passed, so thought it was about time to post a new entry.
Let's get on to what I watched past week and what I'm gonna try out next week.
FINISHED PAST WEEK
Attack on Titan (Season 2)
WHOA! #SHOOK! OMG! 
I literally just finished this, and I can't even find words to describe how obsessed I am with this! I binged it within 2 days and now I'm gonna feel down, because I'm gonna have to wait a whole year for the third season. If we're lucky... if you know what I mean. This was an amazing watch and I'll be in suspense 'til 2018 for sure! 
This left me with more questions than the ending of the first season tho. So many plot twists, so much mystery, too many questions!
Of course I'm giving this a 10/10 stars! 
She and her Cat: Everything Flows
This was a very short watch as there were only 4 episodes and they were all about 7 minutes. I can recommend this to all animal lovers, and especially for owners of the feline furries.
WARNING: straight-in-the-feels-alert !
I'm giving this 9/10 stars. :3
ON BOARD TO WATCH
Alice & Zouroku
I tried out one episode, and I was pleasantly surprised. At first when I saw the art work of the Anime, it looked cutesy and heartfelt / uplifting. 
It turned out to be way more dark and grim than I expected though, and I ended up being really intrigued and interested to see how the rest of this story unfolds. The final episode will be uploaded next week, so I'll be reviewing the first season in my next blog entry.
Polar Bear Cafe
This looks totally adorable and goofy enough for me to absolutely LOVE!
It does have 50 episodes though, so I'm not sure if I'll be able to put up a full review by next week.
Hinako Note
I've already seen the first episode and completely fell in love with it. Next week the final episode will be uploaded, so full review coming up soon.
TRY-OUTS FOR UPCOMING WEEK: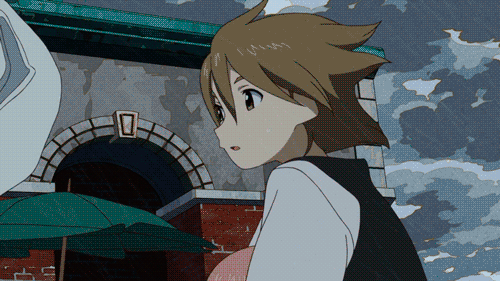 The Eccentric Family
First things I noticed about this Anime is that it involves; animals, magic, slice of life, perfect ingredients for an Anime that I'll love!
Trying out the first episode upcoming week.
There are already 2 seasons, with a total of 25 episodes and the final one will be uploaded June 25th.

Summary:
n Kyoto, there are three kinds of residents: humans, raccoon dogs, and tengu. Shimogamo Yasaburou is the third son of the Shimogamo raccoon dog family. His father, Souichirou, had been the head of Kyoto raccoon dog community until he was eaten by the human members of "Friday Club". While taking care of old tengu, fighting with other raccoon dogs, and playing with a psychic human girl, Yasaburou approaches the truth of his father's death.
Shuumatsu Nani Shitemasu ka? Isogashii Desu ka? Sukutte Moratte Ii Desu ka? /
WorldEnd: What do you do at the end of the world? Are you busy? Will you save us?
I'm really excited to try out one episode of this Anime. On first impression this looks witchy/magical/distopian.. 
Final episode of the first season will be uploaded on June 27th.
Summary:
The fleeting and sad story about little girls known as fairy weapons and an associate hero that survived. This is a world after it was attacked by unidentified monsters known as beasts and many of the species in the world, including humans, had been destroyed. The species that had managed to survive left the ground and were living on a floating island called Regal Ele. Willem Kumesh, wakes up above the clouds 500 years later and couldn't protect the ones who he wanted to protect. Actually, he was living in despair because he was the only survivor. He then ends up meeting a group of girls while starting an unexpected weapon management job.
Tsuki ga Kirei
This just looks very cute and light, which Imma need after those slaughters in Attack on Titan.
The final episode of the first season will be uploaded on June 29th.
Summary:
It's the third year of middle school. Kotaro, a bookish boy aspiring to become a novelist, and Akane, a track girl who loves to run, meet in the same class together for the first time. They're put in charge of the equipment for the sports festival, and slowly grow closer via LINE. How does Kotaro deal with his growing feelings for her? Meanwhile, Takumi has been in love with Akane since first year, and Akane's friend, Chinatsu, becomes interested in Kotaro. A refreshing story of young love set in Kawagoe.
Side-Note
Clione no Akari
This one finally has a premiere date, so I'm gonna mark my calendars on
July 13!
I enjoyed the first episode of Sagrada Reset, but the final episode is planned for September, so I'm gonna put that one on hold 'til then.
Well, see you guys again next week!
Recommendations are still more than welcome and I'll try to fit them in as much as I can.
Let me know if you no longer wish to be tagged as well.