~ Dairy of an Otaku ~
#3
My God, I just realized it's been 2 months since I posted in this Blog. Such a shame, I've been slacking Anime lately.
But now, I'm back at it again and just wanted to mention I re-watched both seasons of Attack on Titan. 
Gave to stay strong to wait another year (if we're lucky) for some new material. But I loved the OVA's especially the one about Levi's backstory. Also finished the Attack on Titan Junior one today. Nothing too special, but it was amusing. 
So by saying this I want to make an overview of things I'll be watching ASAP and we'll see what I can get to in this week.
I'm of course always looking for recommendations so leave them in the comments below! 
ON BOARD TO WATCH
¤ Alice & Zouroku ¤
I remember trying out the first episode of this one and enjoying it and feeling intrigued to find out more about the story. And now that it's been two months since I posted for the last time, I checked and all the episodes are online now. So will definitely be watching!
Summary:
The story centers on a little girl called Sana, who is one of the children that holds the power of "Alice's Dream," an ability that enables her to materialize anything she imagines. After escaping a lab where she was a test subject, Sana ends up in a normal world where she encounters an old man named Zouroku, but will he help her?
¤ Hinako Note ¤
Definitely loved the first episode of this one and the final episode of this one has also been posted online. I can not wait to finish this one. The characters were all so cute and the scenery was breathtaking, so I'm excited to see how this storyline unfolds.
Summary:
Hinako is a shy little girl whom animals are instinctively drawn to. Because of this, Hinako works as a scarecrow to keep said animals away from the crops in her neighbors fields. Thus the tale of the scarecrow girl begins!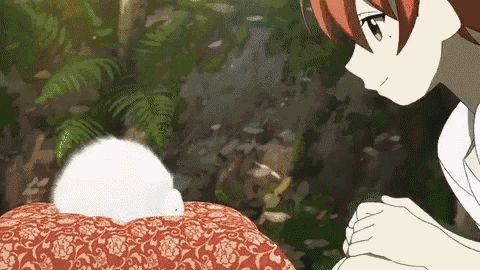 ¤ The Eccentric Family ¤
I've been looking forward to watching this one! It has two seasons, so I've got some serious bing-ing to do. Haven't seen anything of this one yet, with all the gifs with the animals and magic that I've seen is already getting me excited and there's not much more persuading I need.
Summary:
In Kyoto, there are three kinds of residents: humans, raccoon dogs, and tengu. Shimogamo Yasaburou is the third son of the Shimogamo raccoon dog family. His father, Souichirou, had been the head of Kyoto raccoon dog community until he was eaten by the human members of "Friday Club". While taking care of old tengu, fighting with other raccoon dogs, and playing with a psychic human girl, Yasaburou approaches the truth of his father's death.
TRY-OUTS FOR UPCOMING WEEK
¤ Shuumatsu Nani Shitemasu ka? Isogashii Desu ka? Sukutte Moratte Ii Desu ka? /
WorldEnd: What do you do at the end of the world? Are you busy? Will you save us? ¤
Summary:
Five hundred years have passed since the humans went extinct at the hands of the fearsome and mysterious 'Beasts'. The surviving races now make their homes up on floating islands in the sky, out of reach of all but the most mobile of Beasts. Only a small group of young girls, the Fairies, can wield the ancient weapons needed to fend off invasions from these creatures. Into the girls' unstable and fleeting lives, where a call to certain death could come at any moment, enters an unlikely character: a young man who lost everything in his final battle five hundred years ago, the last living human awakened from a long, icy slumber. Unable to fight any longer, Willem becomes the father that the girls never had, caring for and nurturing them even as he struggles to come to terms with his new life, in which he feels the pain of helplessly waiting for his loved ones to return home from battle that his 'Daughter' once felt for him so long ago. Together, Willem and the girls gradually come to understand what family means and what is truly worth protecting.
¤ Tsuki ga Kirei ¤
Summary:
Kotarou Azumi and Akane Mizuno became third year students at junior high school and are classmates for the first time. These two, along with fellow classmates, Chinatsu Nishio and Takumi Hira, relate to their peers through mutual understandings and feelings. As their final year at junior high school progresses, the group overcome their challenges to mature and become aware of changes in themselves.
¤ Clione no Akari ¤
Finally! This is one I've really been looking forward to, even though it seems to be getting bad ratings, I don't really care until I've seen something for myself. And honestly, a lot of people are saying Attack on Titan is overrated, well, I never let that stop me either. 
Summary:
The story centers around an illness-stricken, constantly bullied orphan girl named Minori. After one rainy day, she doesn't turn up at school, having been admitted into a hospital in a distant town. Two months pass, and the girl's two school friends, Takashi and Kyōko, receive a mysterious email with no sender listed. The email reveals a summer festival taking place at a nearby town ....
SIDE-NOTE:
Sagrada Reset won't finish until September, so I'm gonna wait with that one.
Once again, let me know if you wish to be added or removed from the taglist.
RECOMMENDATIONS: