~ Diary of an Otaku ~
#4
Finally I'm back with another Diary entry for my Otaky needs. I still have an endless list of Animes I want to watch, and also an equally long list of Manga I want to read.
Now, on the latter I was definitely procrastinating hard, because my local library doesn't have any manga to lend out, which sucks. But thankfully, I found a great online source where I can read them, so I can get started on that as well. 
And definitely during this time of year, I'll have more time to devote attention to my hobbies.
I'll start with the Anime I'll be watching.
¤ Tsuki ga Kirei ¤
Summary:
Kotarou Azumi and Akane Mizuno became third year students at junior high school and are classmates for the first time. These two, along with fellow classmates, Chinatsu Nishio and Takumi Hira, relate to their peers through mutual understandings and feelings. As their final year at junior high school progresses, the group overcome their challenges to mature and become aware of changes in themselves.
¤ Clione no Akari ¤
Finally! This is one I've really been looking forward to, even though it seems to be getting bad ratings, I don't really care until I've seen something for myself. And honestly, a lot of people are saying Attack on Titan is overrated, well, I never let that stop me either. 
Summary:
The story centers around an illness-stricken, constantly bullied orphan girl named Minori. After one rainy day, she doesn't turn up at school, having been admitted into a hospital in a distant town. Two months pass, and the girl's two school friends, Takashi and Kyōko, receive a mysterious email with no sender listed. The email reveals a summer festival taking place at a nearby town ....
¤ Shuumatsu Nani Shitemasu ka? Isogashii Desu ka? Sukutte Moratte Ii Desu ka? /
WorldEnd: What do you do at the end of the world? Are you busy? Will you save us? ¤
Summary:
Five hundred years have passed since the humans went extinct at the hands of the fearsome and mysterious 'Beasts'. The surviving races now make their homes up on floating islands in the sky, out of reach of all but the most mobile of Beasts. Only a small group of young girls, the Fairies, can wield the ancient weapons needed to fend off invasions from these creatures. Into the girls' unstable and fleeting lives, where a call to certain death could come at any moment, enters an unlikely character: a young man who lost everything in his final battle five hundred years ago, the last living human awakened from a long, icy slumber. Unable to fight any longer, Willem becomes the father that the girls never had, caring for and nurturing them even as he struggles to come to terms with his new life, in which he feels the pain of helplessly waiting for his loved ones to return home from battle that his 'Daughter' once felt for him so long ago. Together, Willem and the girls gradually come to understand what family means and what is truly worth protecting.
¤ The Royal Tutor¤
Summary:
Accepting the post of Royal Tutor at the court of the king of Grannzreich, Heine Wittgenstein is a little professor with a big job ahead! Each of the kingdom's four princes has a rather distinct personality. Does their diminutive new instructor have what it takes to lay down some learning? It's a comedy of educational proportions! 
Off to the Manga I'll be trying out!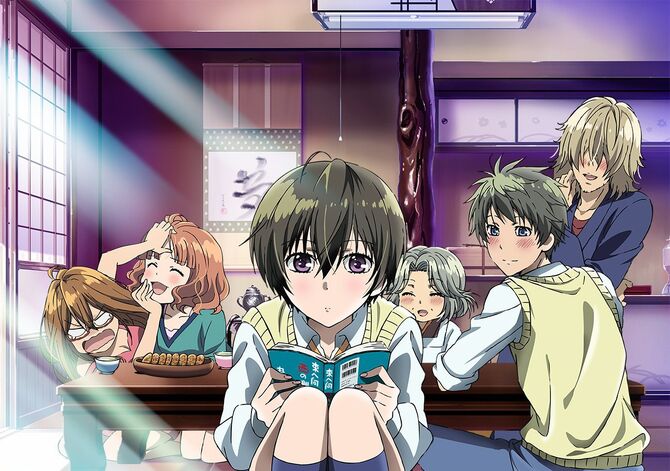 Bokura Wa Minna Kawaisou
Bokutachi wa benkyou ga dekinai
Is it wrong to try to pick up girls in a dungeon?
Hope to update this again soon!
As always, leave any recommendations, and if wished to be removed from the taglist, let me know.